Software
Land Survey Software (LSS)
As User No.130 of McCarthy Taylor's Land Survey System ‿LSS ‿way back in 1990, although we used it for two years before that! - you can be sure that we fully utilize all aspects of this multitalented tool for surveyors and engineers.

From 3D visualizations to design & "what if" modelling there isn't any aspect of this software we haven't used or are fully versed in.

It's flexibility allows us to do it our way but give you what you want and need.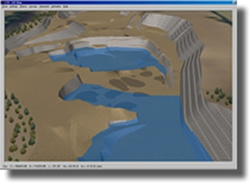 Leica GEO Office (LGO)
It came with the GPS and has grown into a useful tool.

Used for Static processing of GPS baselines and RTK surveys

AutoCAD
All our works are finished in AutoCAD to either our own high standard of presentation or your own styles and requirements.

Our philosophy is one of giving the client what they want and need to be productive with our data from day one.